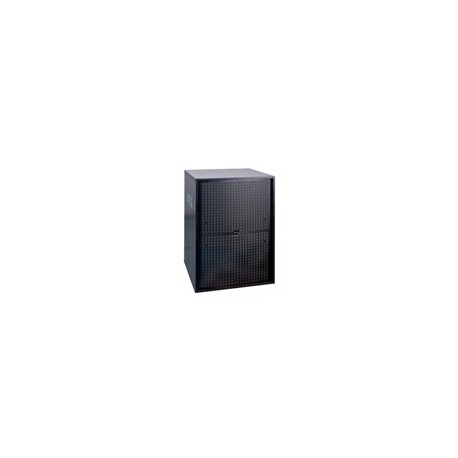  
KCS C-218-AR
KCS C-218-AR Subbas 
Kontakta oss för aktuellt pris.            
Tel.0155190400                                 
butik@winbergkino.se


Säkerhetspolicy (redigera den med modulen Customer reassurance)

Leveranspolicy (redigera den med modulen Customer reassurance)

Returpolicy (redigera den med modulen Customer reassurance)
The C-218-AR is an audience protected system equipped with two high 
quality KCS S-1846 18" Ø woofers.





With the advent of the new 3D digital projection formats, 
audio systems in movie theatres need to evolve so that the audience 
can be immersed in the sound field and enjoy a true 3D sond experience.





With the arrival of 3D digital projection, cinema audio systems are 
undergoing an evolution. The objective is to immerse the movie-goer 
in the sound field and provide a true 3D sound experience. 
A fundamental part of the spectacular 3D sound is the low 
frequency reproduction.





The C-218-AR system handles this task. Twin K.C.S. S-1846 transducers are used.





They incorporate 4" inside-outside voice coil design for greater heat 
dissipation and high power handling. Both the moving parts and 
magnet group have been designed for long excursion, providing 
high sound pressure levels without distortion, even at peaks in 
the sound program, offering a dynamic and spectacular reproduction 
of the sound track´s most intense moments. The protective grille 
allows the system to be used in public areas as surround reinforcement.





Subwoofer system for use in 3D cinema projection.





- Subwoofer system with maximum SPL and minimum distortion.




- Optimum for 3D reproduction.




- 18'' loudspeakers with 4'' dual voice coils.




- 18" long excursion and high power handling design.




- Bass-reflex system with ultra-low tuning for maximum fidelity.





Screen channel cinema sound system especially designed for 
subwoofers suitable for spectacular systems such as Dolby Atmos, 
Auro 3D or similar

 
Det finns inga kundrecensioner just nu.